Khan Faizullah Khan
Khan Faizullah Khan, great grandfather of Jehangir Saifullah Khan, was one of the wealthiest people in the subcontinent in his time. He made most of his wealth through his construction business apart from inheriting sizeable land holdings from his father Sher Dil Khan , who's sizable Land Holdings have been mentioned in the official British Gazetteer of 1907 of Bannu District.
Faizullah Khan had considerable influence in the region and his catalytic approach brought lot of development in south Frontier province. He built several roads, bridges, barracks, cantonment areas, and other infrastructure projects all over D. I. Khan, South & North Waziristan, Bannu, Tank and Lakki Marwat districts. He would often win contracts from the other big business tycoons of India. Khan Faizullah Khan never took advanced payment for contracts, and usually did the work, before presenting the final bill. He could charge as he pleased for the contracts, so his margins were always very good. He also built a small runway in Tank, the first district to the South Waziristan tribal region, for planes to land.
In 1927, he acquired Bannu Electric Supply Company, which was amongst the first power plants in the entire Indian subcontinent, and even before there was power in a large American state like California. The land for the power plant is the heart of Bannu city, one of the most expensive properties in all of modern day Pakistan, later on the Power Plant was nationalized once Pakistan came into being. Khan Sahib also started an ice factory as well next to the power plant.
He was elected as Member of the NWFP Legislative Assembly in 1936, and remained a member till 1945. This was the first election ever held under the government of India Act, 1935. Khan Faizullah Khan died in 1955 at the age of 80. He had three sons Niamatullah Khan, Barrister Saifullah Khan and Saadullah Khan.Fazullah Khan a pious, God fearing and a generous man. He was the disciple of Khawaja Hamid sahib, Pir of Thaunsa Sharif. He built many mosques and drinking water wells and did a lot of welfare work. Some of his philanthropic works can still be seen in the form of mosques, and inns for travelers to stay in.
Khan Niamatullah Khan
Khan Niamatullah Khan (maternal grandfather of Jehangir Khan) was the eldest son of Khan Sahib born in 1908. He was a very gentle and quiet child of Faizullah Khan, who was quite simple in his nature. Upon completing his Bachelors from Commerce College, Karachi, Niamatullah Khan returned to Bannu to take charge as the Managing Director of his father's Bannu Electric Supply Company. He fulfilled this role well for a while; everything was in order while he was managing it. At some point Niamatullah Khan decided to embark on his own work, and decided to take up government contracting for the supply of food etc. He supplied the Frontier Constabulary with food and ration among other necessities. He was extremely honest, and thus won the hearts of both officers and the jawans (sepoys). Colonel Commandant Amanullah Khan used to pray for the long life of Niamatullah Khan, because never in his life had he seen a more honest man. The food and products that he supplied were always of the highest quality. Here again, we had a scion of a prominent and wealthy family of Frontier province, who while inheriting substantial sums from his father, decided to also add to the family with his own contribution Like his father, Niamatullah Khan was very influential in the tribal areas, particularly North and South Waziristan. People loved, respected, honored, and greatly admired him. His influence was of course not limited to the tribal areas, but he was highly influential throughout the region in Bannu, D.I. Khan, Tank, Lakki, Kohat, etc. Niamatullah Khan opened his heart out to the poor of the region, and helped them a lot with all his means. He particularly paid special attention to the medical treatment, and would often pay for people's medical expenses. He built a mosque in Wana cantonment, and built a mosque in Razmak in his father's name. The mosques are still there. He also built schools in Bannu, Tank, Waziristan, and handed them over to the government to run. There were times when the government, particularly after the creation of Pakistan didn't have money to complete road works or other construction work, and Niamatullah Khan would pay for the completion out of his pocket. He opened a school in Landidak on his grandfather Sherdil Khan's name. Niamatullah Khan was married to Shirin Taj Begum, who was the daughter of Khan Ghulam Dawood Khan, who was a Deputy Commissioner in the Indian Civil Service before partition.
Barrister Saifullah Khan
Barrister Saifullah Khan (Grandfather of Jehangir Khan), after graduating from Government College, Lahore went to London to qualify as a Barrister in 1936. During his stay abroad as a student, he learned different languages including French and German. He returned in 1939 to India, and spent some time in D. I. Khan, before moving to Peshawar where he spent a short while practicing law with Khan Abdul Qayyum Khan. In 1941, Barrister Saifullah Khan established a food processing plant namely KK & Co., which was the first ever fruit and vegetable canning factory in the Indian subcontinent, and was the largest supplier of canned foods to the troops during the Second World War. Subsequently in 1942, he started a dehydration factory.
Begum Kulsum Saifullah Khan
Begum Kulsum Saifullah Khan (Grandmother of Jehangir Khan), Begum Kulsum was the patron of Saif Group and Chairperson Saifullah Foundation for Sustainable Development. She was commended for her distinguished services to Pakistan in a career spanning the corporate, social and political spectrum. An active worker, a participant in the Pakistan Independence Movement and a founding member of the All Pakistan Women's Association (APWA) since 1947, Begum Kulsoom served as an advisor to the founder of APWA Begum Ra'ana Liaquat Ali Khan till 1951. She was a founding member of the Sarhad Handicapped Children's Association and also served as the NWFP (now Khyber Pakhtunkhwa) president of the craft council and as a member of the National Council for Population Planning. From 1964 till 1990, along with being the Chairperson Saif Group of Companies, Begum Kulsoom was a founding member of the Women's Chamber of Commerce and Industry (WCCI), a founding Member of the Pakistan Association of Women Entrepreneurs and the NWFP (now KP) President of the Pakistan Federation of Business and Professional Women's Association. She has also represented Pakistan as a delegate at the annual session of the United Nations General Assembly, the United Nations International Council on population and at the World Conference to review and appraise the achievements of the United Nations Decade for Women: Equality, Development and Peace. As a public representative, Begum Kulsoom served as a Member of the Provincial Assembly NWFP (now KP), Member of the Federal Council and also as a Member of the National Assembly of Pakistan. The first woman federal minister in Pakistan's history, she served as the Minister for Population Welfare and Organisation and Methods (Management Services Division). She had also served as the Minister of State for Commerce. During a glittering ceremony held at the Aiwan-i-Sadr on the occasion of Pakistan Day in 2008, former President Pervez Musharaf had conferred the prestigious Hilal-i-Imtiaz civilian award upon Begum Kulsoom for her meritorious and distinguished services to Pakistan.
Khan Bahadur Kuli Khan
Barrister Saifullah Khan got married in 1941 to Begum Kulsum Saifullah Khan, daughter of Khan Bahadur Kuli Khan Khattak, a Political Agent (a Deputy Commissioner) of Tribal Area of Frontier Province. Khan Bahadur Kuli Khan Khattak had managed release of Alice, an English lady captured by Ajab Khan Afridi of Darra Adam Khel. The incident of capture and release of Alice made it to the headlines in UK newspapers of that times. The event is still a famous folk story in Pakistan and Afghanistan. A Pashto language film made in 1950's or 60's on Alice's capture became quite popular. Ali Kuli Khan Khattak was given the title of Khan Bahadur by the then British government for his bravery and great administrative skills.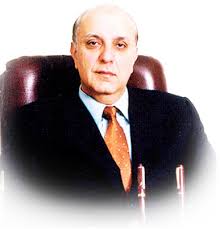 Javed Saifullah Khan
Mr. Javed Saifullah Khan(Father of Jehangir Khan), is a globally acclaimed business leader with deep and comprehensive expertise in introducing new projects in emerging markets. He has been serving as Chairman of Saif Group for over three decades. In recognition of his expertise of Pakistan's corporate sector and his dedication to successfully attracting foreign direct investment into Pakistan, the Government of Pakistan awarded him the prestigious Sitara I Imtiaz, one of Pakistan's highest Civil Awards, in 2007. Under Mr. Khan's leadership, Saif Group have successfully established new businesses and developed projects in different sectors including Telecom, Power Generation, Healthcare, Textile, and Information Technology. Mr. Khan has served as Chairman of All Pakistan Textile Mills Association (APTMA) for two terms, Member Board of Directors of Pakistan International Airlines (PIA), and Board Member of Habib Bank Limited, Member Board of Investment - Government of Pakistan, and a Board Member/Chairman of Jazz (formerly known as Mobilink). He has also served as Chairman/Director of Saif Holdings Limited, Trans World Associates and Saif Power Limited. He represented Pakistani employers in ILO meetings in Geneva twice, led APTMA delegation to ITMF conference in Cairo in 1984 and also represented Pakistan in textile quotas conference in Berlin in 1984. He was a member of trade delegations to Uzbekistan and Australia. As a member of Prime Minister's entourage, he has visited USA, China, Germany and Italy. Mr. Khan takes keen interest in social welfare work, from the platform of Saifullah Foundation for Sustainable Development, a private NGO which was founded by his late mother, Begum Kulsum Saifullah Khan (Hilal-e-Imtiaz). SFSD serves the poor segment of Pakistani society through its landmark projects namely Women & Children Hospital, Computer Centre, Saifullah Khan Trust, Akbar Kare Institute, SFSD Scholarships etc. Mr. Khan graduated with a BA in Economics & History from Carnegie Mellon University and went on to receive his MBA from the University of Pittsburgh in 1973.